Open a World of Possibilities for the Children-in-Need by supporting Singapore Children's Society's Charity Gala Dinner 2016!
As a child, we grew up on fairy tales. Fairy tales that almost always concluded with happy endings. The reality is such that not all children get their happy endings. Due to their circumstances, some children are denied the opportunity of a better future thus creating a vicious cycle of disadvantage. Singapore Children's Society strongly advocates that every child deserves an equal chance; a chance to education, a chance to pursue dreams, a chance to strive towards their ambitions and aspirations. This is the fairy tale ending we wish for these children.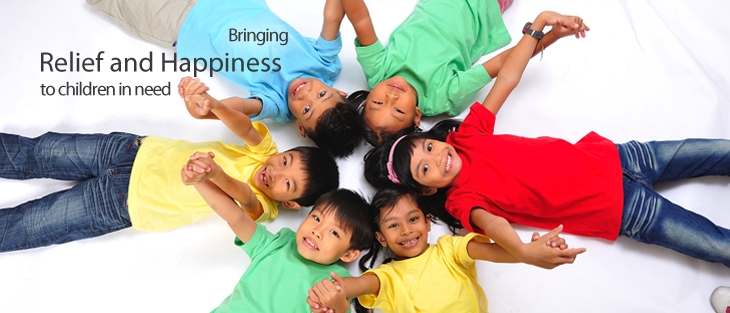 Singapore Children's Society was established in 1952 to help undernourished children. After 64 years of services to the less fortunate children and their families, they now have 11 service centres and reach out to over 67,000 needy children, youths and families yearly. As these numbers of beneficiaries grow every year, so do their expenses.
SCS's Services:
Vulnerable Children services–

Protecting and Guiding Vulnerable Children.

 

They provide

 fundamental care and guidance to children as what their parents and guardians should provide.

Children and Youth Services

–

Nurturing and Inspiring Children and Youth.

  They provide value-adding care, nurture and inspire children and youth, to complement what their parents and guardians provide.
Family Services–

Supporting and Strengthening Families in Need. 

 They support and strengthen families in need by working together with them and their children.
Research and Advocacy–

A Voice for Our Children and Their

Future.

 They perform an advocacy role as the voice of children and their future.
To know more about SCS CLICK HERE
Come this November Singapore Children's Society is organizing their biennial Charity Gala Dinner 2016 to help raise funds and they hope we all can support.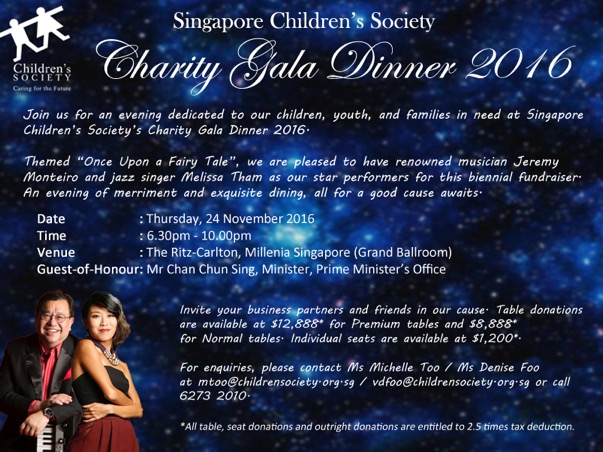 Being the crown jewel in Children's Society's fundraising event line-up for 2016, guests can expect nothing short of a glitzy and glamorous affair at their biennial Charity Gala Dinner. We sincerely hope you can support by making a table/seat donation to support the beneficiaries.
This event is Supported and Marketed by Kit Kat Events & Marketing . Come join us for an evening of merriment and exquisite dining, all in the name of a good cause.
Details as follows:
Date, Day: 24 November 2016, Thursday
Venue: The Ritz-Carlton, Millennia Singapore (Gr and Ballroom)
Guest-of-Honour: Mr Chan Chun Sing (Minister, Prime Minister's Office)
Time: 6.30pm (Cocktail Session), Guest to be seated by 7pm
You can also invite or involve your business partners and friends to join this worthy cause. Table/Seat donations and outright donations will all be entitled to 2.5 times tax-exemption . Please pledge your support by choosing the following:
     

Table/Seat Donations

     

Outright Donations

     

Purchase Luxury Lucky Draw Tickets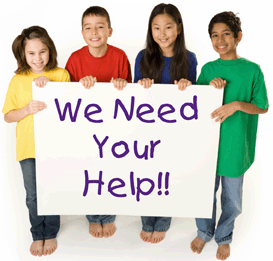 Your generosity will enable SCS to raise the much needed funds to help the children under their care. 
Join us to fulfil a child's fairy tale!
For more information, please contact Ms Michelle Too at 6273 2010 or email: mtoo@childrensociety.org.sg .
We invite you to embark on a journey in making a difference in a child's life with us.