30,Jul-2019
Shikha Sarkar
0 comments
What's On In Hong Kong – March 2019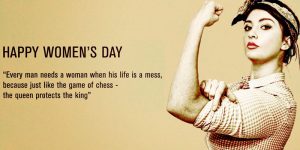 After two 'New Years' celebrations in a row it's time to really let the year kick in. Let's start with        Hong Kong International Film Festival 2019, where you have the opportunity to see some Asian cinematic work. Laugh more-worry less! Book your tickets for the comedy show hosted by one of America's biggest comedy stars, Jim Gaffigan. He is bringing his "Quality time Tour" to Hong Kong, at last. If music is your thing, you have many good concerts to choose from, but Boyzone's Farewell Tour stands out. How cool it'll be to go back in time and listen once more to those 90s hits you grew up with. You also have the chance to explore the culinary world, between 21-24 March, at the Taste of Hong Kong Festival presented by HSBC, which includes exquisite food created by the city's top chefs, drinks and live entertainment.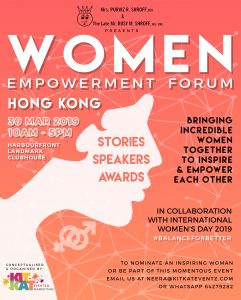 International Women's Day (March 8) is a global day celebrating the social, economic, cultural and political achievements of women. On this momentous occasion, Kit Kat Events & Marketing is organising for the very first timeWomen Empowerment Forum on the 30th of March             (10am-5pm). The event will feature stories of unsung heroes, community champions and women          who have gone above and beyond their course of work, service and passions, to inspire others. We will celebrate exceptional accomplishments and achievements of women from all walks of life in through the "Mrs Shroff Women of Inspiration Award". For more information email us on neera@kitkateventz.com or WhatsApp us on 64279282.
Dream Cruises presents the Egg-Citing 2019 Easter Egg-xtravaganza at sea. Being the largest                   and newest cruise liner in Asia, with 18 decks and a tonnage of over 151,000 tons, is a must          experience for one and all. This Easter, they bring you unbelievable offers FREE upgrades,                     buy one get one free & massive discounts.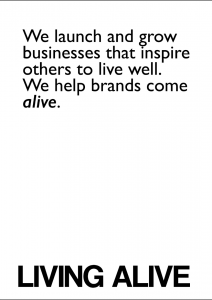 WE ARE Living Alive.
We help brands come alive. With an expertise in fashion, food, wellness, and mission-driven   companies, we launch and grow businesses that inspire others to live well.
We take a thoughtful and intentional approach to creating bespoke solutions that each brand has a customized plan for continued growth and success. Reach out at: hello@wearelivingalive.com
Just when you think nothing can impress you anymore, a new restaurant is popping up and in this case is Silencio. Located on the 6th floor of Lan Kwai Fong Tower, this gem restaurant recreates the vibrant ambiance of Japan's much-loved drinking dens, uplifted with Izakaya favourites menu, sleek interior and live jazz performances. "Rosewood Hotel Group" takes Hong Kong by storm with its grand opening of the ultra-luxurious hotel named simply Rosewood Hong Kong. Situated within Victoria Dockside, it faces the famous iconic Harbour. In just few word, 8 different dining concepts, sumptuous interior design and majestic outdoors, a luxury hospitality at its best. Hong Kong Disneyland Resort announced it's newest Marvel attraction, Ant-Man and The Wasp, this being the first Marvel themed attraction featuring a female super hero as a lead character and it promises an exhilarating and interactive experience, with its cutting-edge illusion technology and state-of-the-art gaming system.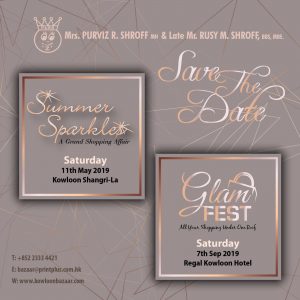 The much awaited fashion and lifestyle fairs in Kowloon are back this year! Celebrating 13 years in    Hong Kong, Plus Group brings you Summer Sparkles at a BRAND NEW, absolutely loved location, The Kowloon Shangri-La Hotel. Mark your diaries for a unique and fulfilling shopping experience! Laced with lucky draws, interactive activities. Exhibitor Applications OPEN NOW
http://www.kowloonbazaar.com/online-booking/
For any inquiries, contact: bazaar@printplus.com.hk
KK: How long have you been living in Hong Kong & what brought you here?

SM: We moved in 2006 from Bahrain to Hong Kong after living there 5.5 years. While it was my husband's job which brought us here, it was also the restlessness in me to move to a place where I could work on a consulting role.
KK: With over 20 years of experience in Corporate Business roles in the multinational banks and local banks what inspired you to start your own venture?
SM: After 10 years of hiatus from work, I wanted to do something where I could contribute based on the experience I carried while having the flexibility to do other things – be it personal, develop other skills, learn new things etc. I also wanted to work with people in areas to bring humaneness back to work, meet inspiring people, learn from the ecosystem and give back in equal measure.
KK: How receptive in HK market to entrepreneurs? 
SM:  Hong Kong is one of the easiest places to start a venture.  Having said that, starting a business is, well, really only the beginning – we need to build our personal brand and create opportunities through networking – Hong Kong is very well set up for both in terms of the Chambers, Associations, Mentoring opportunities etc.
KK: For other women who also dream to become an entrepreneur one day, what is the best advice on how to get started?
SM:  As Nike says, Just do it – you will amaze yourself! Be confident about yourself and what you can offer/how you can contribute. Think of what your USP is and play to your strengths. We have taken on projects which sounded like having a Big Hairy Audacious Goal and we have executed meticulously, our belief and conviction worked in our favor, like for instance in the case of Mind Over Matter – Hong Kong Corporate Quiz which we have been running for the last 5 years.
KK: How is TSOL different from other capability enhancement companies in the market? Kindly share one USP of your company. 

SM: Our strength lies in our ability to customize and localize solutions for organisations – we conduct extensive pre-program research to ensure we contextualize the solutions, so the participants can apply the learning directly back at work. And we create safe spaces at our workshops for practice so it becomes easier to transfer learning. This stems from our own experience when we worked in corporate of going to training programs, feeling wow at the content and then coming back to work to find it is BAU and difficult to convert that wow to action.  We use Business Storytelling as a tool to help engage, inspire and influence people and action.
KK: As an entrepreneur and having corporate experience have you ever faced gender inequality. 

SM: I must happily confess, no. Or definitely nothing that was apparent to me. Unilever was (is) one of the most professional organisations I have had the pleasure to work in and very merit driven.  Same with ANZ. Having said that, when I decided to take a break from work, it was partly due to lack of options on flexi timing because those concepts had not seen the light at that time. Having some of these measures in place will help bring diversity at the work place and keep the options open for both genders.