31,May-2018
Shikha Sarkar
0 comments
What's On In Singapore – June 2018
Singapore's most anticipated the Great Singapore Sale is starting from 8th June. Shopaholics can buy     high quality major brands at discounted rates. Malls along Orchard road have some exciting offers for    the shoppers. Let your hair down and groove to world's best electronic music DJs, Ultra Singapore is happening on 15th & 16th June at Bayfront Avenue. The festive area has been three curated stages, each equipped with state-of-the-art interactive technology. The traditional Dragon Boat festival is on 18th June. The Dragon Boat Festival signifies the abundance of Chinese influences rooting back to the ancient history of Singapore. One can witness the race at Bedok Reservoir, the Kallang River and Gardens by the Bay Marina Channel. Take your children to National Heritage Board's annual Children's Season happening till 24th June. The season is about art, cultural and heritage experiences that will thrill and provide hours of fun for the whole family. There are some amazing exhibitions for children at National Museum, Singapore Philatelic Museum and Mint Museum of Toys.
The winner of Zee TV SaReGaMaPa Hong Kong 2017, Anirudh Trivedi got once in a lifetime chance      to meet the biggest Bollywood Star Mr. Aamir Khan and sing for him. Mr. Aamir Khan's recent movie "Secret Superstar" is about making a dream come true for a talented singer. And we are glad that we are able to do the same for the Indian Community in Hong Kong.
Mellower Coffee has opened their third outlet at Marina One. Situated in the heartof CBD the place offers classic brew made of blend of Ethiopia and Yunnan coffee beans. They also have small selection of sandwiches & salads. Anotherrestaurant that's making its mark in CBD area is The Spot. The place offers eclectic menu fusing contemporary European cuisine with South East Asian ingredients. It is an all day dining café, restuarnt, bar and a cigar lounge.They have a selection of ultra-premium wines by the glass and range ofexclusive Macallan bottles. Located at Level 2 Intercontinental, Roberston Quay, Plum & Toro, has some of the best Japense cuisne to offer. The place issuitable for family, large groups, catching up with friends and colleagues. From Ebi to Wagyu, its extensive menu is reflective of the restaurant's efforts to cater to every palate. Right in the fringe of Club Street is MonteCarlo Boys, that has their very own brand of homemade Monaco Beer and an array of Moenegasque dining delicacies you won't find anywhere else. Also, in their menu is they have some great cocktails, spirits and bar food options.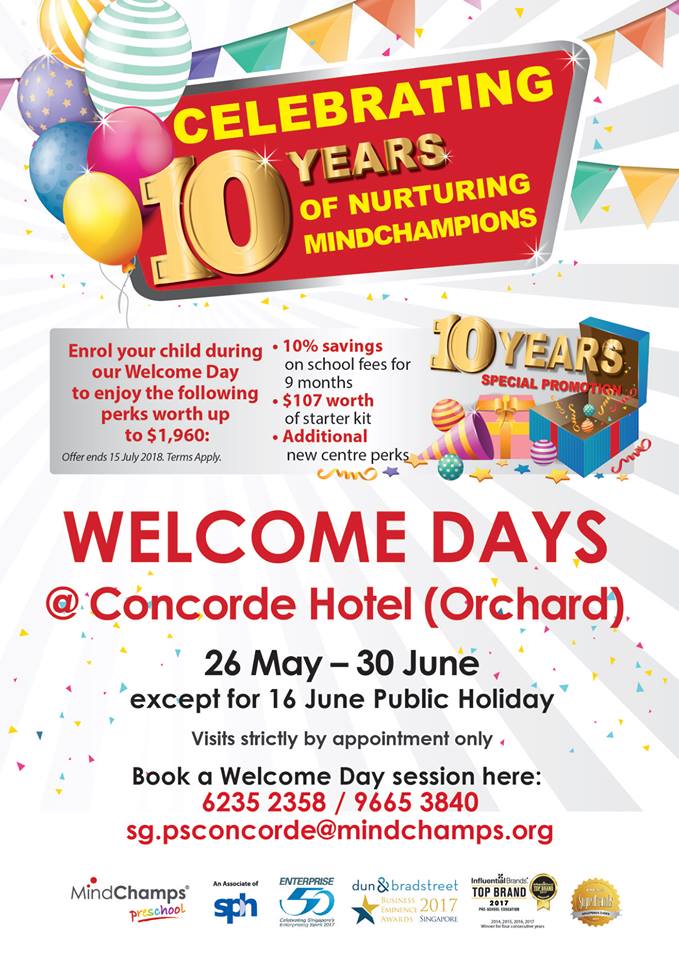 ⭐WELCOME DAY • SINGAPORE • MAY 26TH to JUNE 30th ⭐
YOU & YOUR LITTLE ONES (18th months to 5yrs) are invited to visit MindChamps PreSchool,        Concorde Hotel (Orchard). Visits strictly by appointment only. So if you are looking to get your little      ones admission in Singapore's best Preschool, Now Is The Chance!!!
As Mindchamps is celebrating their 10th Anniversary, Enrol your child
during Welcome Day to enjoy perks worth up to $1960.
Call now at +65 83447829 or email us at contactus@kitkateventz.com
to book your SLOT!!!!!
#Mindchamps #Preschool #Schooladmission #kidseducation
⭐WEEKEND GOLF • BATAM • NETWORKING • JULY 28TH⭐
A Big Shout-out for Golf Addicts and Avid Players for our upcoming
GFC Champions -Golf Tournament 2018.
Register Now as we have limited slots only.
Complimentary Return Ferry | Green Fee | Buggy | Lunch
Date: 28th July 2018, Saturday
Venue: South Link Batam Golf Course
Attractive Prizes to be won by all winners!!! Don't miss this opportunity!!!!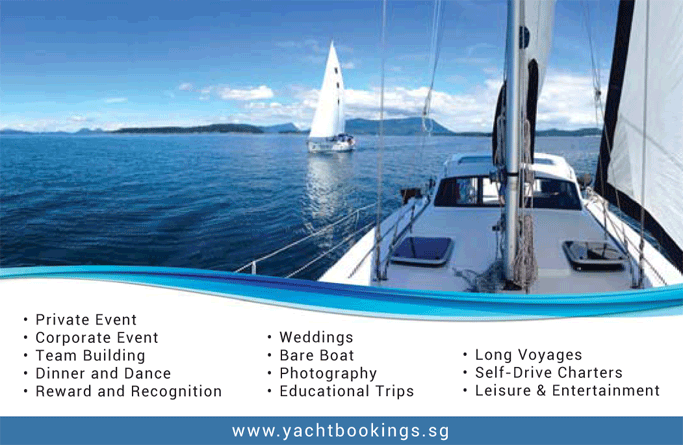 Boasting the largest fleet of charter yachts in Singapore, Yacht Bookings Singapore is your one-stop-shop for a plethora events at sea for group sizes up to 150 pax. Extensive range of services like renting a yacht for corporate events, private affairs like birthdays, anniversary, bachelor parties to weddings available. Rates start from as low as $599! Plan your next trip out at sea!!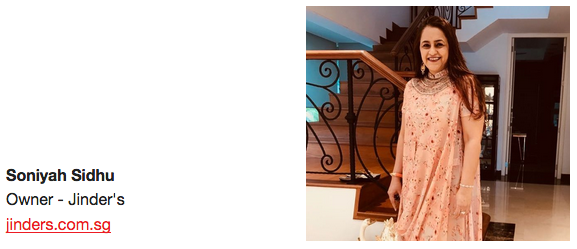 KK: When did you move to SG and from where?
SS: It's been a good 19 years stint in Singapore. I moved here from Mumbai after getting married.
KK: When you first moved here, what was your impressions about
the country and how has it changed over the years?
SS: Singapore is always on a growth path & is constantly re-inventing itself. When I moved here, Singapore was lesser vibrant & then there
was a sudden burst of cultural show, events, plays, Indian Musicals & Indian Restaurants and lot more.
KK: How did fashion come into your life?
SS: I graduated from IITC (Institute of Fashion Design) India and had
a brief stint in interior designing and architecture before I moved to Singapore.
KK: You run a store called "Jinders", what's the story behind it ?
SS: "Jinders" had been a successful & reputed business when I got married into the family. Having a keen interest in fashion & background
in business, it seemed for me the perfect match. "Jinders" gave me an opportunity to indulge in my passion & to grow the label simultaneously.
KK: Your clothes & accessories were recently seen on Zee TV's Antakshari Hong Kong show, with the host Neera Gupta endorsing them. How has the international exposure helped you out?
SS: I was given the opportunity by Kit Kat Events & Marketing to dress the gorgeous host Neera Gupta for Zee TV's Antakashari Hong Kong show. Her bubbly & vibrant personality off & on screen added so much flavour to our outfits. We got a great response from Hong Kong audience who reached out on social media to connect, compliment & buy our collections.
KK: Any evergreen fashion tips you can share with us?
SS: Follow your own style sensibilities. Be original & do not follow fads!