MENSTRUAL AWARENESS DAY
 MH Day              Partnerships          MHM and the SDGs        MHM and human rights 
Did you know?
52% of the female population is of reproductive age: menstruate each month for about 2-7 days.
Women spend an average of 3,000 days (about 8.2 years) of their lives menstruating.
Menstruation is an important sign of reproductive health. And good menstrual hygiene management plays a fundamental role in enabling women and girls to reach their full potential. In alignment with Global Menstrual Hygiene Day, join us to talk, support, and celebrate #girls and their #periods in our endeavor to #leavenogirlbehind.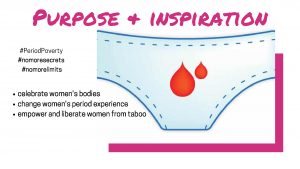 ABOUT THE ORGANIZERS:
Dr. Katherine Dale, the Vibe Tribe and Luuna Naturals are committed to providing body-knowledge and self-awareness for women. A women's body is at the core of her self-expression and enjoyment of life. We believe strongly in giving women the freedom to speak about menstruation. When we stop the shame, secrets and taboo around the female body we give women the strength to live powerfully.
EVENT DATE: 28TH MAY 2019
EVENT VENUE: Alive Wellness, Suite 602, 43-55 Wyndham Street, Yu Yuet Lai Building, Hong Kong 
TIME: 5.00PM TO 10.00PM
TICKET PRICE: HKD 230 (EARLY BIRD : HKD 184)
EVENT SCHEDULE & SPEAKERS: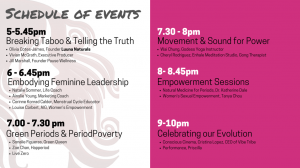 TOPIC OF DISCUSSION:
Breaking Taboo
Green Periods and Period Poverty
Celebrating our Bodies
Embodying Feminine Leadership
Empowerment Session
Sound Therapy
ACTIVITIES:
Speakers & workshops
Movies
Crafts
Food & Beverage
Movement: Goddess yoga, Pilates, Gong Bath
Meditation
MOOD AND INTENTION:
Celebrate our cycles and our progress
Awareness of how the taboo continues
Playful and bright mood
Celebrate the Feminine
Overcoming our belief in needing to be masculine
Different does not mean "less than"
WORKSHOPS:
Menstrual health management (acupressure; nutrition; hydrotherapy; orgasm)
Movement (pilates, yoga, dance)
Sharing our best period stories
Knowing your libido cycle
BellyDance to relieve pain
CHARITY IN FOCUS:
Free Periods HK – Free Periods HK is the only charitable group in Hong Kong providing support to low-income women through the supply of free sustainable menstrual products. https://freeperiods.hk/en/mission-en/
MARKETING PARTNER: 
Kit Kat Events & Marketing are proud to support the Menstrual Awareness Day as a part of their initiative to empower & inspire women all across the world! They recently organised in Hong Kong the "Women Empowerment Forum", in collaboration with International Women's Day (IWD). The event featured 19 amazing WOMEN (& 1 brave man) who have gone above and beyond their course of work, service and passions to make a difference, sharing their personal stories of triumph and devastating loss and everything in between to inspire others, empowering by the way of engaging in pressing issues related to Women, finding a common ground through hope, meaning and ultimately, ACTION!!! The event was well attended by close to 100 people including few men & children who came to support the strong women in their lives! Click here to find out more.
GOODIE BAGS & GIFTS:
Ava
Luuna
Natural Balance – Luna Mama
PERSONAL TREATMENT:
Sound Healings
Menstrual Cycle Charting Assessment
HASTAGS:
Raise awareness of #periodpoverty, #nomoresecrets, #nomorelimits
QUOTES:
"Cultural stigma and taboos around menstruation… combined with an overall culture of silence around the topic limit the ability of women and girls to fully and equally participate." – World Bank
Menstrual Hygiene Day Quotes – http://menstrualhygieneday.org/