Halloween today is becoming one of the most celebrated festivals around the world. It's popular with both young and the old. Let's look at some interesting facts about Halloween. You can also catch some of the festivities happening right here in Singapore.
  A full moon on Halloween is extremely rare!
Though it is a common trope in horror movies and Halloween decorations with witches flying across the full moon, however the next full moon on Halloween won't occur until 2020. The most recent Halloween full moon was back in 2001, and before that it was in 1955.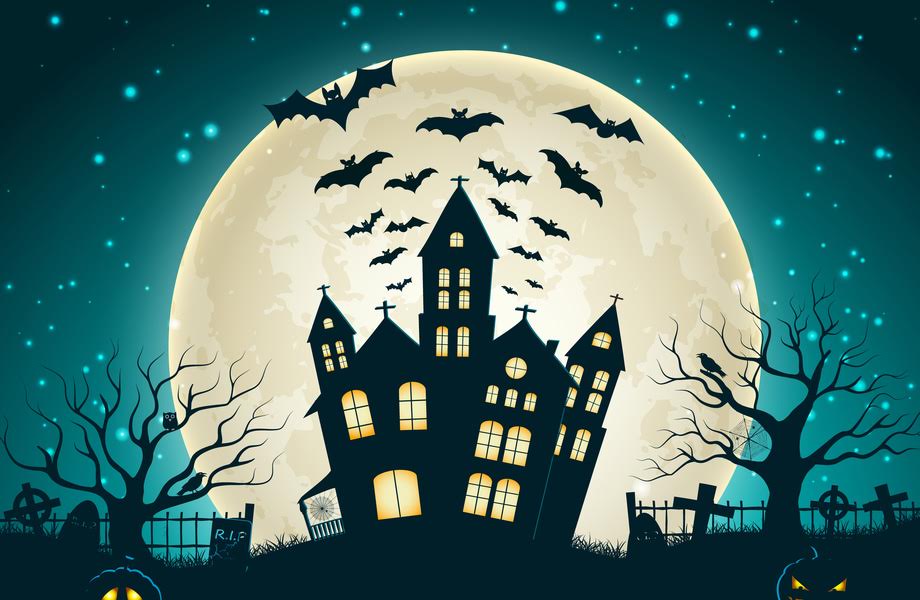 Photo Credit: EskiPaper.com
Halloween is still the Wiccan New Year!
Halloween originates from a Celtic tradition called Samhain, a festival that marked the end of the Celtic calendar year in Irel and, Scotl and, and the Isle of Man. They believed it was a time that spirits or fairies could enter our world, and the Celts would put out treats and food to placate the spirits — sometimes, a place at the table was even set for the souls of the dead. Wiccans still celebrate Samhain as a New Year celebration today.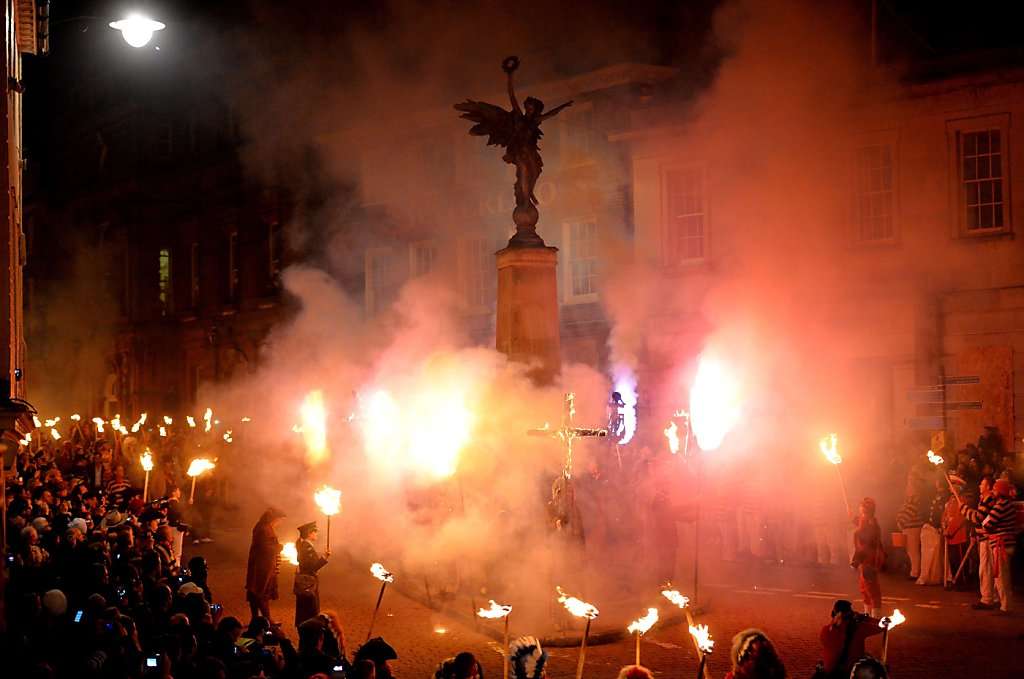 Photo Credit: Leon Neal, AFP/Getty Images
Dressing up on Halloween comes from the Celts!
Celts believed Samhain was a time when the wall between our world and the paranormal world was porous and spirits could get through. Because of this belief, it was common for the Celts to wear costumes and masks during the festival to ward off or befuddle any evil spirits.
Photo Credit: halloweencostumes2016
Black Cats Aren't Safe On Halloween!
Because black cats are associated with witches and are considered bad luck, they are actually really not safe on Halloween. Many shelters won't even let black cats be adopted around Halloween because they are so worried about people will take black cats to torture or sacrifice them.
Photo Credit: Special Day Celebrations
Owls Are A Halloween Image Because They're Associated With Witches!
Owls are another animal that are usually associated with Halloween. This is because that in Medieval Europe, people thought owls were witches. Hearing an owl's call meant that someone was going to die. Spooky! And perfect for Halloween.
Photo Credit: ShutterStock
 Forms Of Trick-Or-Treating Have Been Around Since Medieval Times !
Different versions of trick-or-treating have been around since medieval times. It used to be called "guising" or "souling," and it was when children and poor adults went around in costumes on Halloween begging for food and money in exchange for songs and prayers. It was brought to America by the Irish in the early 20th century, but became less popular during WWII when sugar was rationed. However, in 1947, children's magazines, a radio program and the Peanuts comic strip made the tradition popular again, and by 1952, it became trick-or-treating as we know it now
Source: ctpost
 

There's A Reason Orange and Black Are Halloween Colors!
We all associate orange and black with Halloween – it's impossible to see that combination and NOT think of spooky things. Wondering why? Orange is associated with the fall harvest, and black is associated with darkness and death. Put them together, and you've got Halloween!
Source: gurl
 Seeing A Spider On Halloween Means Something!
Don't be scared if you see a spider on Halloween! Okay, maybe be scared because although this is sweet, it's also a little creepy. According to legend, seeing a spider on Halloween means that the spirit of a loved one is watching over you.

Photo Credit: ShutterStock
 Jack-o'-lanterns were once made out of turnips, beets and potatoes — not pumpkins!
The jack-o'-lantern comes from an old Irish tale about a man named Stingy Jack. According to folklore, Stingy Jack was out getting sloshed with the devil when Jack convinced his drinking partner to turn himself into a coin to pay for the drinks without spending money. Jack then put the devil, shaped like a coin, into his pocket, which also contained a silver cross that kept the Devil from transforming back.
He promised to free the devil as long as the devil wouldn't bother him for a year. And and if he died, the Devil could never claim his soul. Jack tricked the devil again later, getting him to pick a piece of fruit out of a tree and then carving a cross into the bark when the devil was in the branches. This trick bought Jack another 10 years of devil-free living.
When Jack finally died, God decided he wasn't fit for heaven, but the devil had promised never to claim his soul for hell. So Jack was sent off to roam Earth with only a burning coal for light. He put the coal into a turnip as a lantern, and Stingy Jack became "Jack of the Lantern" or "Jack o' Lantern." Based on this myth, the Irish carved scary faces into turnips, beets and potatoes to scare away Stingy Jack or any other spirits of the night.
Photo Credit: WikiCommons
 Halloween used to be a great day to find your soulmate!
In some parts of Irel and, people celebrated Halloween by playing romantic fortune-telling games, according to Nicholas Rogers' "Halloween: From Pagan Ritual To Party Night." These games allegedly predicted who they'd marry, and when. Since Halloween, like Valentine's Day, was one of the main celebrations of the year where young people could mingle with the opposite sex.
Photo Credit: Getty Images
Something Wicked This Way Comes:
GET SPOOKY IN SINGAPORE!
Halloween is a festivity that Singaporeans are growing to love more and more. We get to be treated to yearly scare-fests, on top of the Trick-And-Treat adventures in neighbourhoods. Be it full-on hair-raising experience or something more toned-down that the kids will love, here are some Spook-Tacular Events Around Singapore For Halloween 2016 .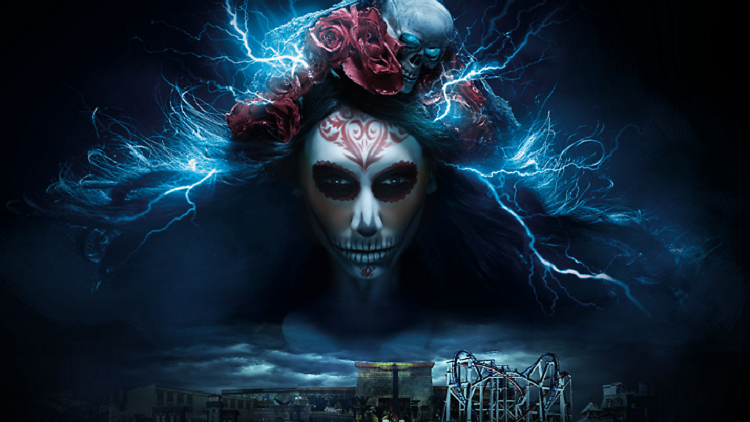 Halloween Horror Nights 6 (HHN6)
Universal Studios' Halloween Horror Nights arguably started the ball rolling for the steady stream of Halloween-themed events in Singapore, and can almost be considered a must-do when the month of October approaches. HHN is on to its sixth consecutive year, and this time, you can look forward to six different themes all over the park – including Old Changi Hospital, Hu Li's Inn, and this year's special – the Salem Witch House.
Venue: Universal Studios Singapore, 8 Sentosa Gateway
Date & Time: Fri, Oct 14 – Mon, Oct 31, 7:30 PM     Price: S$51 – S$207
http://www.halloweenhorrornights.com.sg/en
Photo Credit: Geek Culture
 

*SCAPE Museum of Horrors VI: The Doll Factory
*SCAPE has jumped onto the b andwagon when it comes to haunted houses and frightful events for the Halloween season. This year, get creeped out by the array of freaky, blood-curling "vintage dolls" that are sure to give you nightmares (well, you asked for it). Step into a tour with seven different chambers, complete with shrieking actors.
Venue: *SCAPE, 2 Orchard Link, Singapore
Date & Time: Wed, Oct 26 – Mon, Oct 31, 7:00 PM     Price: S$15
https://www.facebook.com/scapesg/
Photo Credit: *SCAPE
 

Gotham City in Chaos
Superheroes and villains alike are welcome to Hotel Jen Tanglin's Rumpoles bar as it transforms into Gotham City. Good or evil, you'll get to enjoy one-for-one deals and free flow bites such as quinoa chicken rice and chocolate popcorn. There are also plenty of newly launched chocolate bars and hazelnut spreads – not to mention prizes – from Superlife Co to go around.
Venue: Hotel Jen Tanglin Singapore, Orchard
Date & Time: Fri, Oct 28, 7:00 PM     Price: Free
http://www.hoteljen.com/singapore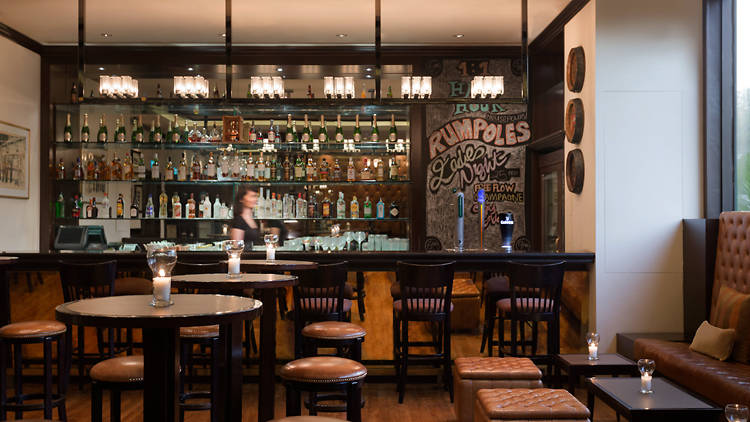 & SONS Creature of the Night buffet
Calling all creatures of the night – and foodies, too – because &SONS is throwing a feast that promises to be gruesomely good. As an ode to the much-loved halloween icon Jack-o'-Lantern, expect a buffet spread of squash-flavoured dishes such as penne and pumpkin pasta bake, halibut with pumpkin and orange cream, and desserts like pumpkin and chocolate pie. But that's not all – cocktails served are also given a devilish spin of their own. Fancy a taste of Green Goblins ($12) or Gummy Wormy ($5/shot), maybe?
Venue: & SONS, #01-09, China Square Central, 20 Cross Street, Singapore
Date & Time: Fri, Oct 28, 5:30 PM     Price: S$45/ person
http://www.sons.com.sg/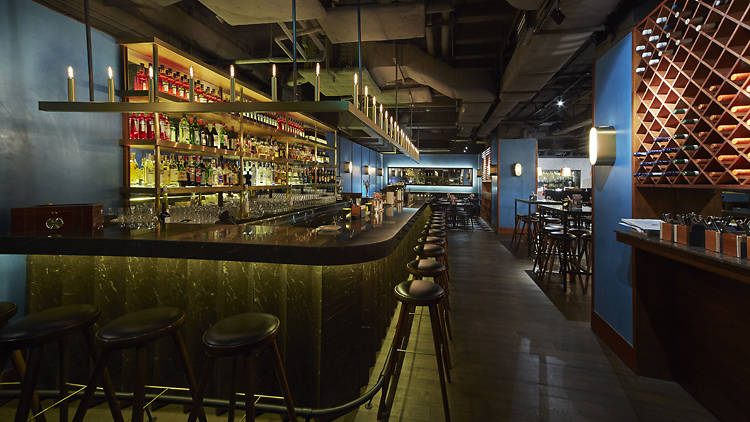 Battle Royale: Halloween 2016
The Halloween shenanigans at The White Rabbit have moved out of Dempsey into OverEasy Orchard. The all-American diner turns into the ultimate fight club, where bad and badass characters – think Suicide Squad, Chuck Norris and the Power Rangers – fight it out as DJ KFC and DJ KiDG pump out killer beats. And how's this for an incentive to put in effort for your costume: the best-dressed of the night wins a stay at Amala Villas Ubud, Bali.
Venue: Overeasy, #01-01, Liat Towers, 541 Orchard Rd, Singapore
Date & Time: Sat, Oct 29, 10:00 PM     Price: Free
http://www.sons.com.sg/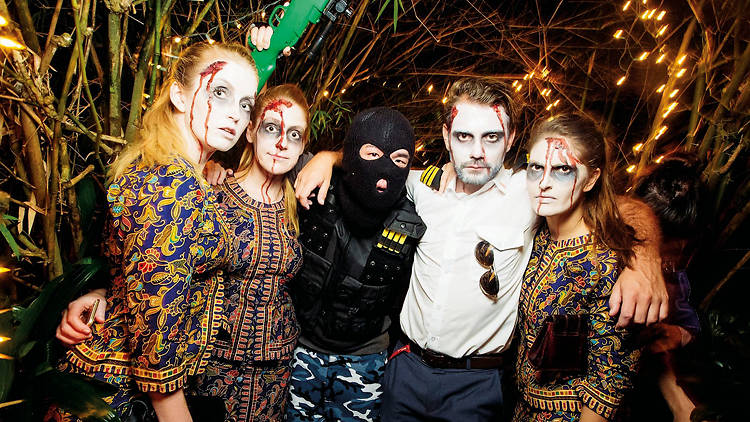 Sub-LIME Halloween
Sink your fangs into a bloody good mess of brains, ghouls and eyeballs on the scariest night of the year at LIME's Halloween-themed gourmet feast. There are all manners of broken limbs, a bloody waterfall fashioned from matcha fondue, and, for a dose of morbidity, RIP pork intestines.
Venue: Lime, 3 Upper Pickering Street, Singapore
Date & Time: Fri, Oct 28 &  Sat, Oct 29, 6:30 PM     Price: S$30 – S$80
http://www.parkroyalhotels/lime
 

Thriller in the Park
The undead, a kids zone and a 12-hour party – these are just a few things to expect at this inaugural event, where local DJs take the decks from 11am. Fend off the undead in a zombie maze before dancing away to sets from DJ Rattle, Brendon P (of CÉ LA VI), Kenneth Francis (Kyo) and DJ Rico Smith, among others.
Venue: Fort Canning Park, Fort Canning Rd, Singapore
Date & Time: Sat, Oct 29, 11:00 AM     Price: Free – S$25
http://www.facebook.com/singaporehalloween
 Zouk Halloween 2016: The Scream Diner
It's a case of whodunit at The Scream Diner, spilling with gory surprises, decadent alcoholic slushies, hunks of hanging meat… and a series of disappearances that all seem tied to one suspect: owner Mr O'Donnell, who's left a series of clues in a House of Horrors-style experience. Stumble upon torture chambers, O'Donnell's sacrifice room, the crime scene zone made up of the Zouk main room and Phuture – and, of course, the milkshake bar at Velvet Lounge.
The Scream Diner will treat you right, if you're game – so dig into a bloody dog ($7), get slightly sloshed with the Barcadi Meat Slashie ($12) and pray you leave in one piece.
Venue: Zouk, 17 Jiak Kim St, Singapore
Date & Time: Sat, Oct 29, 10:00 PM     Price: S$33/ Women, S$38/ Men
Free entry for those in full costume, as approved by front of house. Each ticket allows entry to all outlets and two st andard housepours.
 Mutants & Mayhem
Gather your most trusted mates, because you're gonna need all the help you can get to survive the zombie apocalypse in Mutants and Mayhem at Colony 13. Set after the fictitious fall of Singapore, where mutant cannibal tribes clash for dominance, your squad of five to ten players form Company Mayhem. It's a ragtag civilian army charged with being the last line of defence of the human race.
And all you have to fight with are a few foam weapons like blasters and axes – and your wits. If you'd rather be a baddie, your team of five can also play as infected mutants to hunt humans – or other mutants. It's every man, or zombie, for himself.
Venue: 5 Ubi Link, Singapore City
Date & Time: Sat, Oct 15 – Sun, Oct 30, 6:00 PM     Price: S$36 – S$256.48
https://www.facebook.com/events/159160234540925/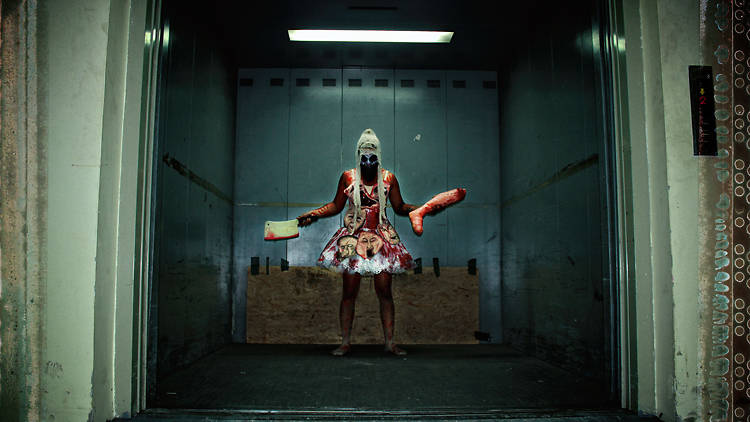 Spooky Junior
Spooky Junior returns to Singapore's first kids' club by the beach. Expect a family-friendly slew of activities to keep the young ones at bay (literally).
Venue: Port of Lost Wonder, 54 Palawan Beach Walk, Singapore
Date & Time: Sat, Oct 29 – Sun, Oct 30, 10:00 AM    Price:  S$15/ child; free for accompanying adults
http://www.polw.com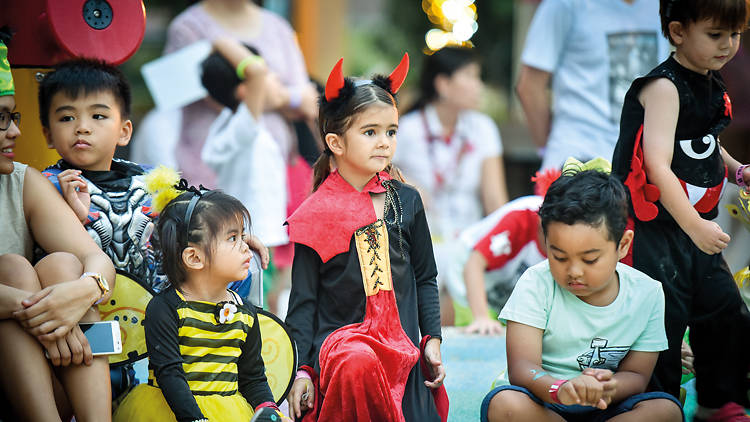 Safari Boo
Bring your little ones trick-or-treating this Halloween at the River Safari. This year's theme of 'Aliens and Monsters' is a merry-not-scary fun and colourful event designed specially for kids. Learn about all kinds of weird and wonderful creatures, enjoy live animal presentations and watch a new underwater mermaid musical performance. There are also activity booths for crafting and face painting along with plenty of photo opportunities with alien mascots, a giant crashed alien spaceship and the many animals of the River Safari.
Venue: Singapore River Safari, 80 M andai Lake Rd, Singapore
Date & Time: Fri , Oct 21 – Sun, Oct 30, 6:00 PM   Price:  S$5 – S$22
http://www.riversafari.com.sg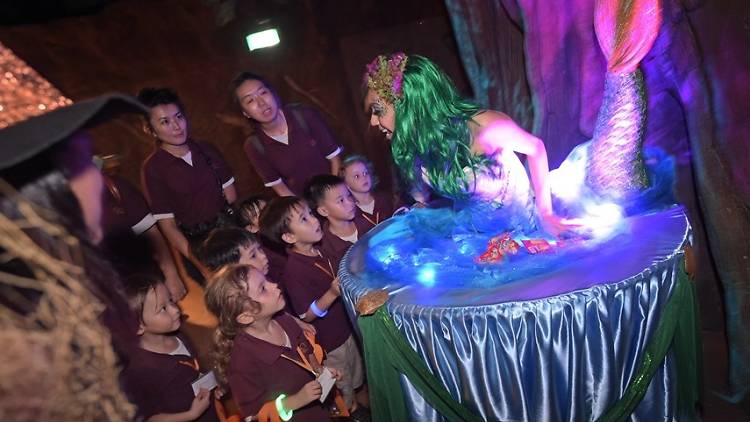 SPOOKY SEAS AT S.E.A. AQUARIUM
Get the little ones involved with the Halloween festivities at the Spooky Seas at S.E.A. Aquarium event. Several family-friendly events such as a treasure hunt, underwater show complete with 'skeleton' w anderers, and a story-telling session will be scheduled at different times throughout the week. Your kids can even get crafty with Halloween-themed workshops!
Venue: S.E.A. Aquarium at Resorts World Sentosa, Singapore
Date & Time: Fri , Oct 14 – Mon, Oct 31, 10:00 AM   Price:  S$15 – S$32
http://www.rwsentosa.com/language/en-US/Homepage/Attractions/SEAAquarium/SpookySeas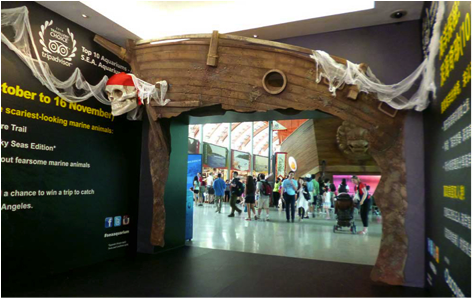 Photo Credit:  Resort World Sentosa
Source: http://www.businessinsider.com/13-facts-you-never-knew-about-halloween-2013-10?IR=T&r=US&IR=T
http://www.ctpost.com/news/slideshow/13-things-you-didn-t-know-about-Halloween-96768/photo-3608873.php
http://www.huffingtonpost.com/2014/10/24/halloween-weird-facts_n_5948456.html
http://www.timeout.com/singapore/things-to-do/best-halloween-events-in-singapore