SHARPEN UP YOUR KNOWLEDGE OF MUSIC.
ANTAKSHARI IS HERE.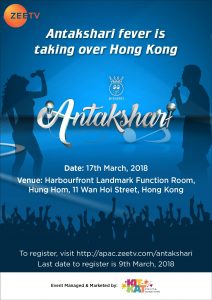 After conquering the hearts of Singapore, Zee TV APAC is now all set to bowl over Hong Kong with India's favourite musical game show – Antakshari. Yes, we're bringing this age-old family game to your city and this time, it's going to be more musical, more fun and more exciting than ever before.
If you have had fun playing Antakshari with friends and family, then get set to play a fun version with us. After all, Zee TV was the first to bring this game out of the home and on the centre stage through an iconic TV show of the same name.
ONLINE REGISTRATION:
Each team needs to have 2 players. Please submit your registration online via the form above. We are looking at 32 teams on a first come first serve basis for the preliminary round. So, hurry up and register!
Last date to register is 9 March 2018.
THE ON-GROUND BATTLE:
First 32 teams to register on a first cum first serve basis will be invited to play against each other at the mega on-ground event in Hong Kong
Date: 17th March 2018
Venue : Harbourfront Landmark Function Room, Hung Hom, 11 Wan Hoi Street.
Shortlisted teams will be notified by our representatives closer to the event.