The most talked about seminar is back again!!!
Join us for our next series of Wine, Health & Wealth Seminar – Start the Year with the right decisions!!!
Part I
Enjoy three varieties of Portuguese wine specially selected for the event by our sommelier Naji Atiyeh:
Sparkling White Wine
Herdade das Servas Colheita Selecionada White 2015 – Chosen for Singapore Grand Prix 2017, this South Portuguese wine, with tropical ripe fruit aroma combined with floral notes, is well structured, highly complex, has a good acidity and a nice persistent finish.
Casa Santos Lima Confidential Red 2015 – It takes at least 10 varieties of grapes and a hint of vanilla to make this Central Portuguese wine so special. It is well balanced, with sensations of red fruits, combined with the elegancy of wood notes and fine tannins provided by ageing in 250 litres oak barriques.
Part II
Health Talk Conducted by Dr. Tan Chong Hiok–  a senior cardiologist practising at Mount Elizabeth Hospital, Singapore. He has a dual accreditation in interventional cardiology and echocardiology. He will be sharing information about:
Recognising signs of a heart attack – With high levels of stress and poor lifestyle, the number of deaths due to heart attacks are increasing very rapidly in Singapore. Learn to pick up the early signs that can save lives.
Preventive measures – Hear about simple steps we can take and changes we can make to combat this deadly condition.
Part III
Followed by Sarah Mae Thomas- family lawyer at Ann Tan & Associates and will be sharing views on importance of WILL:
Ins & Outs of creating simple wills
Safeguarding your family due to unforeseen circumstances
Part IV
Grow our wealth and get the right advice on saving it for yourself and your loved ones by Deepak Singh, Senior Financial Advisor at GFC. Topics covered include:
CPF Investments & changes in the policy of CPF Investment Scheme,
Portfolio Performance for Q1 2019
Off Shore Investments & Savings
Retirement Planning
Kids Education & Fee Planning
The session will be followed by complimentary dinners & drinks!!! So hurry and RSVP NOW!!!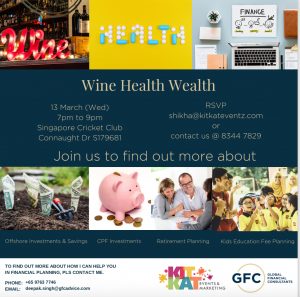 Date: 13th March, Wednesday
Time: 7:00 PM – 9:00 PM
Venue: Singapore Cricket Club, Connaught Dr, 179681
As we have limited seats Kindly RSVP before 5th March.